QUICK REFRESHER STEPS FOR JUMP-STARTING YOUR CAR
Refresher course time! Want to brush up on how to jump-start your car or are you interested in teaching your teenager the basics before you hand them the keys? Check out this quick tip article for jump-starting your car.
1. Make sure that both cars are OFF.
2. Attach one of the red clamps to the positive (+) terminal on the battery that is dead. Be careful of the other red clamp. It's now live.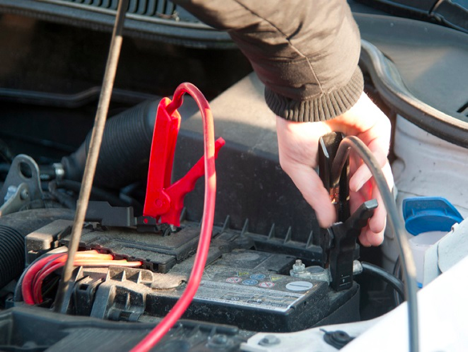 3. Connect the other red clamp to the positive terminal on the jump car's battery.
4. Connect one black clamp to the negative (-) terminal on the good battery and attach the other black clamp to an unpainted steel surface on the stalled car (to be grounded).
5. Turn on the jump car (the one with the good battery) then turn on your car.
 
6. Remove the cables in reverse order and close the respective hoods.
 
7. Drive your car around for 15-30 minutes after being jumped in order to charge the battery back up.
DO YOU HAVE A CAR WITH A MANUAL TRANSMISSION?
You can bump-start a manual car when it has a dead battery without needing jumper cables or a power source.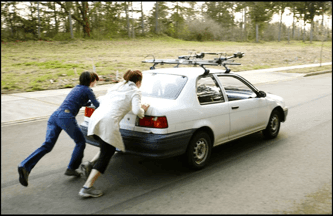 1. Turn the key on the ON position.
2. Put the car in first gear and hold the clutch down.
3. Get the car rolling forward (by pushing it or by rolling down a conveniently located hill).
4. Once up to jogging speed, quickly release the clutch. The car should jerk, then start.