DMV Cheat Sheets $9.95
Pass the Written DMV Test the First Time
Steps to getting your license
What to bring to the DM
Requirements for getting your license
DMV Fees
50 Essential Question & Answer study guide questions
Website for your state's practice questions
Traffic signs & signals
Website and Phone for your state's DMV if you have questions
Our unconditional money back guarantee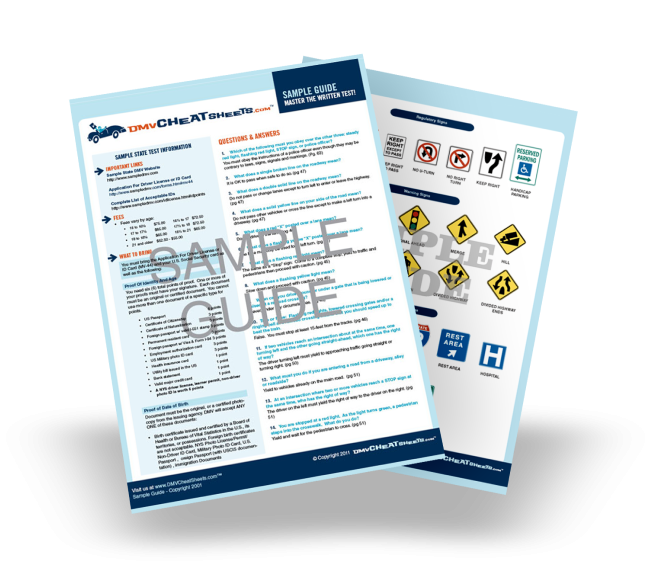 Essential Guides to the DMV Test
DMV Cheat Sheets provides a unique and useful service to customers who are going to be taking their driver's license test in the near future. 

Aside from paging through the weighty DMV manuals that are typically well over 100 pages long, there are currently few alternatives available for learning the information necessary to pass the test. 

Some driving schools offer review classes to help test takers study for the exam, but these are often very expensive and only slightly less time consuming than actually reading the manual. What's worse, much of that information is superfluous, and rarely comes up on the tests.
DMV Cheat Sheets
DMV Cheat Sheets solves this issue by providing customers with its time-saving and stress-reducing study aids. These guides, which are available for all 50 states, compress all of the most important information into a concise reference guide to help save you time and do better on the test. The DMV Cheat Sheet contains comprehensive information for test takers that goes beyond the 50 essential questions and answers. This includes instructions about the procedures required to get your license, a list of things to bring with you on the day of the test, the requirements for license eligibility, the phone number and website of the state's DMV, the basic traffic signals and signs, and the DMV fees that are associated with getting a license in your state.

This is not only helpful for first-time test takers, but is particularly useful for those good drivers who have had their license for years with no trouble and have recently moved to another state that requires them to retake the drivers test in order to obtain a license in that state. Why should you have to spend all of the tedious effort involved in going through the dense manual to memorize the nuanced differences between the laws of your new home and your previous one when you have been on the road safely for years?

These guides can cut down hours of needless studying into 10 or 20 minutes. The best part about it is that if you don't pass your test after purchasing and studying one of DMV Cheat Sheet's guides, you can take advantage of the 100% money back guarantee. All you have to do is mail in your failed test results, and you will receive a full refund.